Isolation a barrier for Kaikoura GPs, one year after quake's aftermath
+News
Isolation a barrier for Kaikoura GPs, one year after quake's aftermath
Tuesday 14 November 2017, 04:34 PM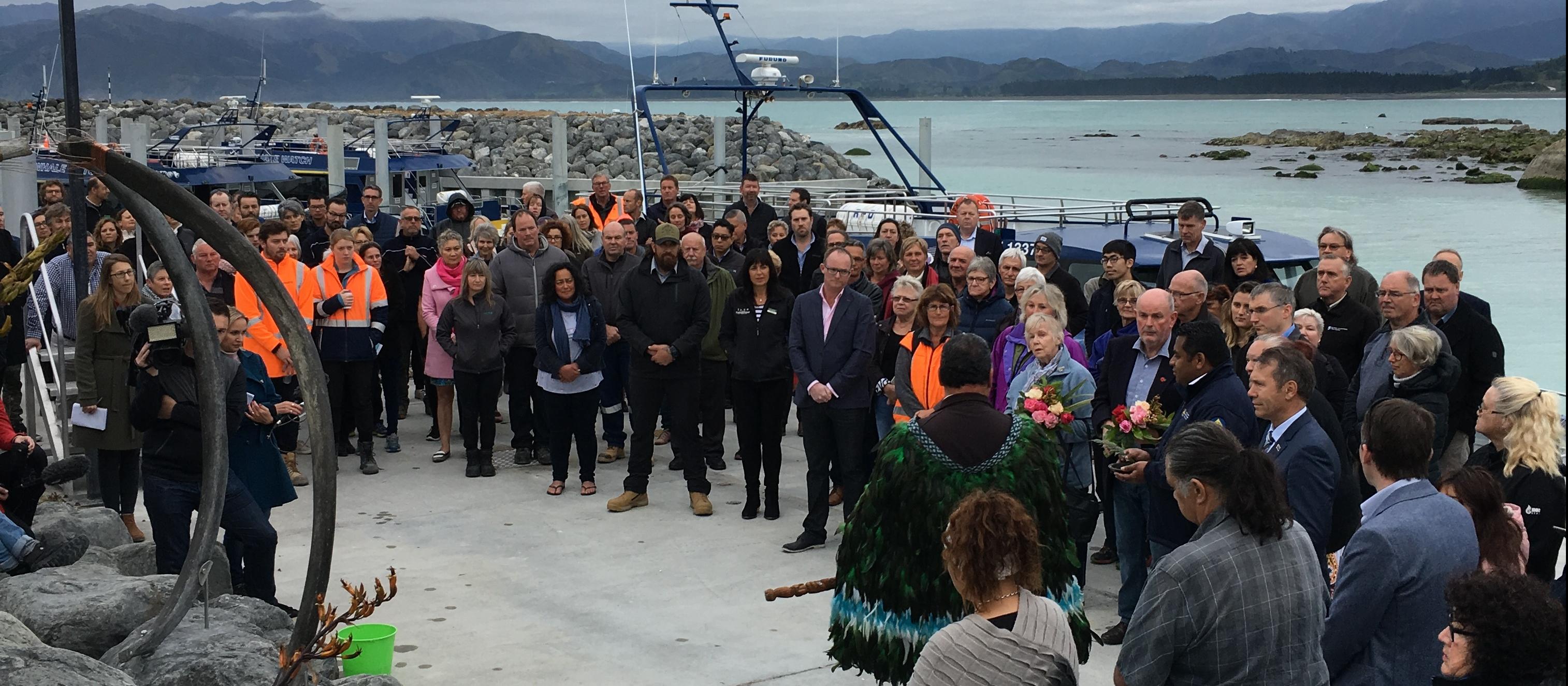 A remembrance ceremony was held in Kaikoura this morning, marking the first anniversary of the 7.8 magnitude earthquake. A whale bone sculpture commemorating those who lost their lives, the community and people of Kaikoura was unveiled at the ceremony
Isolation is one of the major barriers affecting Kaikoura and its local GPs, as the North Canterbury coastal town today marks the first anniversary of the 7.8 magnitude earthquake.
State Highway One north of Kaikoura remains closed with an opening date of 15 December on the horizon, while access south of the town is mostly closed, opening occasionally, and the inland route, mostly open.
Kaikoura GP Chris Henry says there has been a lot of rain throughout the winter and numerous times where there's been no road access to get patients in or out and weather has also ruled out flying.
"If you have a medical emergency, that is quite potentially stressful to deal with," Dr Henry says.
His colleague, Andrea Judd, who co-owns the Kaikoura Health Centre with him, says whenever there is rain her immediate thoughts are of the roads.
"It's that whole isolation from everyone and the whole vulnerability knowing that at any time we could be cut off," Dr Judd says.
They have had to rely on air transport a lot more than usual to fly people out of Kaikoura for further healthcare.
The pair believe no one anticipated the extent of work required to rebuild roads and they applaud the work by the North Canterbury Transport Infrastructure Recovery Group and its workers to get the state highway system back up and running.
Dr Judd says she would have expected the roads to be open by now, but it is no one's fault they are not.
"This natural disaster is bigger than everyone realised."
Extra load as workers move into town
The practice continues to be very busy and the GPs are grateful for the arrival of two new GPs this year – Ged Garbutt and Bronwyn Lamond – who Drs Judd and Henry describe as a "godsend". However, they still want to employ another GP.
Despite Government post-quake support funding, there is no funding to employ extra GPs, but the transport infrastructure group has given some funding to the practice to assist with providing an extra weekly evening clinic to cater for workers' health needs.
Since the quake, about 1500 extra road workers and support crew have shifted into Kaikoura, creating extra demand for the practice and unintended social consequences on the small community, Dr Henry says.
Costs for rental properties have sky-rocketed, forcing some locals out of the township, though local unemployment rates have dropped.
Kaikoura Health's enrolled population has dropped from just under 4000 pre-quake to 3383 currently. Most of the 1500 workers are casuals with many of them having complex medical histories but no records with them, making healthcare a challenge. The GPs are surprised at the significant amount of diabetes and heart disease.
DHB sets up Recovery and Wellbeing Team
Canterbury DHB has established a Recovery and Wellbeing Team made up of specialist nurses, social and mental health workers. The team's clinical lead, Rose Henderson, says it's about getting secondary services linked in to primary care.
Since April, the team has cared for 111 people, but have had over 240 contacts; some have just one visit, many have up to 10 or 12.
In the immediate aftermath of the earthquake, there was a lot of stress and anxiety about aftershocks and fear of future quakes. Now stresses are more related to ongoing issues around insurances, rebuilds and fatigue, Ms Henderson says.
The DHB team is working closely with Kaikoura Health and Rural Canterbury PHO.
Rural Canterbury PHO manager primary mental health services Paul Wynands says currently referrals to primary mental health remain moderately high in the Hurunui. However, the reason for these referrals is not specific to the effects of the 14 November earthquake.
Cheviot community shows resilience
Cheviot GP Anthea Prentice has returned to work part time at the Cheviot Community Health Centre, after taking time out with stress leave and annual leave earlier this year.
Dr Prentice and her husband Snip's home on their Cheviot sheep and cattle farm was destroyed in the Kaikoura quake and coming on top of years of droughts, the past year has been a very stressful time for them and many others in the community.
However, speaking briefly on her way out to home visits earlier this afternoon, Dr Prentice says despite the tough times, good has come out of it.
"People have shown an amazing amount of resilience and helped each other and worked together; it does bring out the strengths in a community."
They have recycled parts of their home to rebuild a cottage on the farm and hope to move in prior to Christmas.
The prospect of returning home is not so bright for Dr Henry. Access to his home in the Clarence Valley has been cut off due to the earthquake-damaged access bridge being demolished and there are no firm plans for its future. He and his family are currently renting a friend's property in Hapuku.
Like Dr Prentice, the Kaikoura GPs remain upbeat, saying some good things have come out of the disaster with the Government paying off the remaining $2 million loan on Kaikoura's new health centre.
Today, the atmosphere at the health centre is vastly different to 12 months ago, when the injured were queuing up and helicopters were flying overhead.
"Trying to find a place where you could hear yourself think was a challenge," Dr Judd recalls.
Commemorative events began in Kaikoura at dawn this morning with a special remembrance service and blessing of the restored South Bay marina. The marine was officially opened this afternoon with a community picnic scheduled to kick-off at 4pm.
RELATED ARTICLES - Before 1 August 2017 can be found in the Knowledge Basket