Need for better access to GPs, health ministry tells Clark
+News
Need for better access to GPs, health ministry tells Clark
Thursday 7 December 2017, 04:42 PM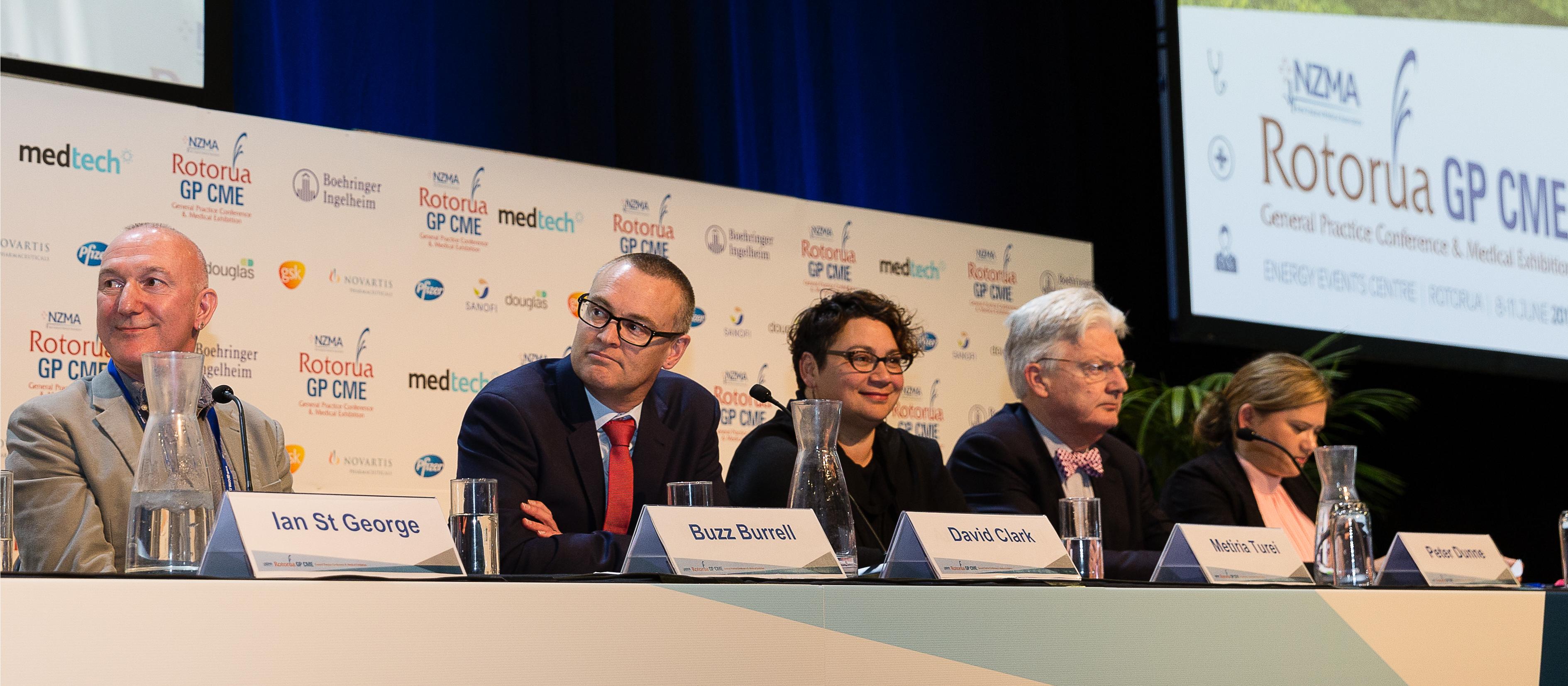 David Clark takes part in a political panel with GP Buzz Burrell, Metiria Turei, Peter Dunne and Ria Bond while on the campaign trail earlier this year
Universal services are not reaching some of our most vulnerable groups to the degree needed
Improved access to primary care should be a top priority for health, a Ministry of Health briefing told new minister David Clark in his first days on the job.
Hefty background reading will have landed on the minister's desk as he stepped into his new role in October, with three briefings from the ministry alone. Those briefings were made public today.
Improved access to primary care is high on the ministry's list of early priorities, including lowering the copayment for GP visits from July next year.
Without stating the letters V,L,C or A, the report says delivery of primary healthcare services in New Zealand is not working well for everyone.
"Universal services are not reaching some of our most vulnerable groups to the degree needed (eg, Māori, Pacific peoples, youth, disabled people and those on low incomes), and we are not successfully addressing all barriers to access (including cost and opening hours)."
The reports clearly state areas both of success and failure within the ministry's work, signed off by now-resigned director-general of health Chai Chuah.
Overall, the briefing paints a picture of a health system struggling under the weight of increased demand, which is delivering more services but failing to dish them out equitably.
Mental health and medicinal cannabis
In Mr Chuah's welcome letter to Dr Clark, he says the ministry is committed to working toward the new government's policies, including two health topics in the 100-day programme of action.
Those are the setting up of a ministerial inquiry on mental health and introducing legislation to make medicinal cannabis available for people with terminal illnesses or in chronic pain.
Other government policies which stand out as needing early implementation are funding for additional health and disability services, re-establishing the Mental Health Commission, extending school-based mental health services, improving cancer services (including the set-up of a national cancer agency) and rebuilding Dunedin Hospital.
The ministry sees the main challenges to health as being the growing population with a life expectancy rising faster than health expectancy (the time spent in good health), disproportionally poor health for some populations and the difficulty of maintaining funding in light of increased costs and demand.
Between 2011/12 to 2015/16, the number of GP consultations rose by 7.51 per cent and nurse consultations increased by 39.1 per cent.
Mental health service demand has also risen, with 169,454 people accessing such services in 2016, up from 154,523 in 2013.
Current healthcare services are not meeting the needs of Māori, Pasifika and vulnerable groups, the briefing says, and Māori report more barriers to healthcare than the rest of the population.
The health system structure
In the past year, commentary around whether the existing DHB and PHO models are still relevant has increased and the report briefly hints at the minister's ability to change that structure.
"Considering whether the current institutional arrangements remain fit for purpose could identify opportunities for addressing some of the challenges to the system and building on its strengths."
The report shows that new funding as a percentage of baseline funding dropped to its lowest point in 17 years under the previous government, down from a peak in 2006/07.
Vote Health, the health system's main funding, this year is $16.773 billion, up from $12.240 billion in 2008/09.
More than three-quarters of that funding goes to DHBs.
The major causes of poor health in New Zealand are long-term conditions including diabetes, cancers, cardiovascular disease, respiratory illness, mental illness and chronic pain.
Health inequities can be addressed through five key areas, the briefing says: mental health and addiction, the health of mothers, babies and young children, primary healthcare, disability support services and home and community support services for older people.
The briefing also emphasises the need to balance distribution of services, investment in hospital developments and alternative systems such as the national electronic health record systems.