Man with a Mission: Bringing health to the homeless
+In the spotlight
In print
FEATURE
Man with a Mission: Bringing health to the homeless
Wednesday 11 October 2017, 05:52 PM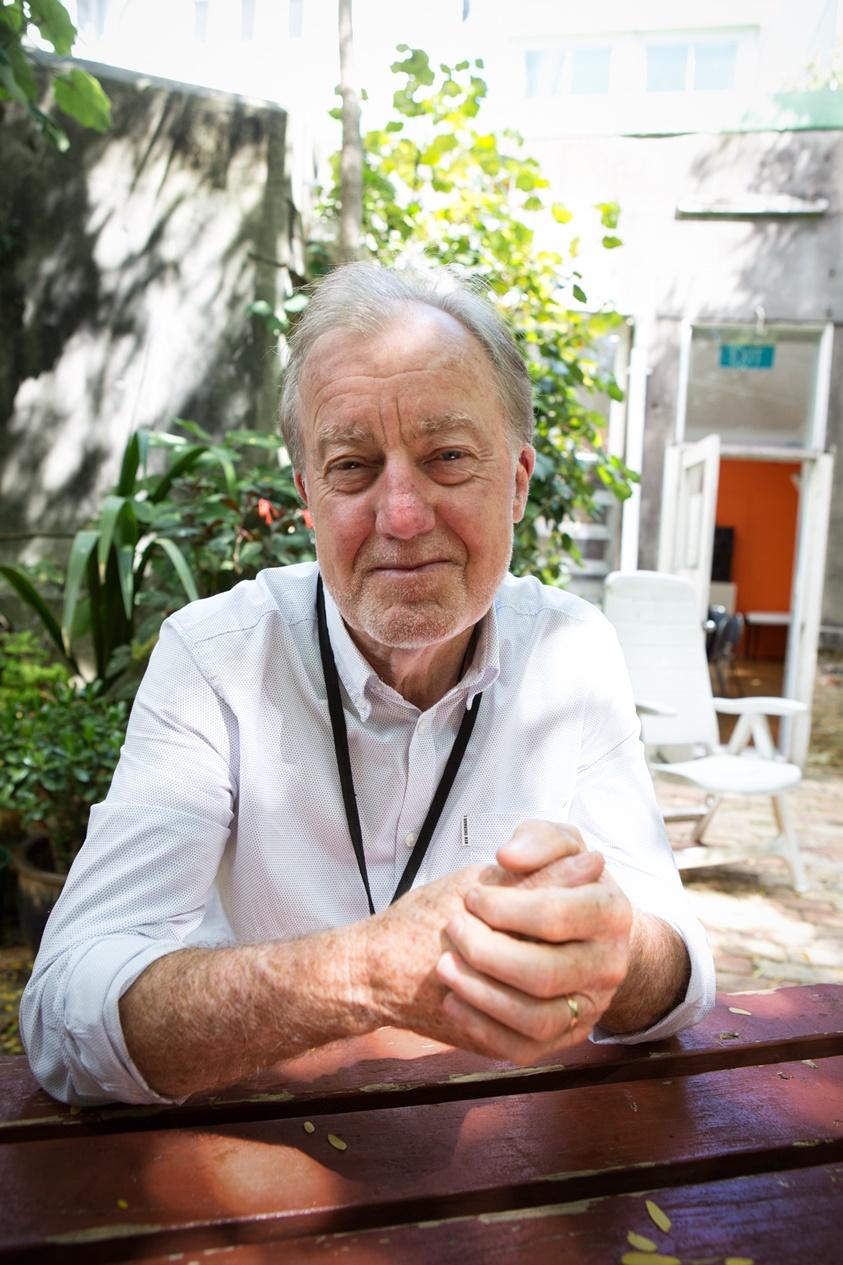 Chris Farrelly
Chris Farrelly left his position as chief executive at Northland's Manaia PHO last year to lead the Auckland City Mission. Now an advocate for homeless people, he's clear he hasn't left the health sector. "I am totally in it – this is a health service," he tells Cliff Taylor. Photographs by Chris Reid
The Auckland City Mission feels strangely deserted at 9.30 on a Friday morning. The high-ceilinged foyer has seen bet­ter days, everything is a bit scuffed around the edges. It's the end of January but a few bits of Christmas tinsel still hang from a supporting column. A woman slow-dances with a mop across the floor. There is a smell of disinfectant.
 It's a joke. The system will not fund us. And, to me, there's immense injustice in this
A man wanders in, retrieves a guitar and wanders out. Another man appears and reaches behind the counter for a broom and dust shovel. He steps out into Hobson St and starts sweeping the pavement.
A woman with lines of life etched on her face stands apart, waiting patiently for something.
"It's quiet now, but there were 100 people in here for breakfast this morning," says Chris Farrelly, striding in from the street with hand outstretched.
He guides me under the roll-down security screen and through the labyrinth of corridors and store rooms, shelves stacked high with donated food, cardboard cartons and used clothing. The sprawling building isn't exactly fit for purpose, Mr Farrelly admits. Downstairs used to be a karaoke bar. The ancient-looking brick building out the back was the 1850s-era Prince of Wales pub. Other, rather forbidding, Victorian institutional blocks house the detox unit, accommodating 10 patients. It's always full.
We sit upstairs in his office, with buses roaring past below the windows.
"So what did this used to be?"
"Do you really want to know?" Pause. "It was a brothel."
Man with a Mission - a photo essay
Words by Cliff Taylor, pictures by Chris Reid
Steep learning curve
If Chris Farrelly looks tired, it possibly has something to do with the gradient of the learning curve he has been on since last June, when he took over as chief executive of the City Mission after 13 years at Manaia Health PHO (New Zealand Doctor, 16 March 2016).
To learn about the job and the people he was to speak up for, he worked 18 days in a row, talking to people queuing up outside. Some of the stories he heard have changed his life.
In the three weeks prior to Christmas, he says, hun­dreds of people started lining up outside, from midnight every night, in the hope of getting a Work and Income New Zealand special needs grant, a Christmas food parcel and presents for their children.
"The value of these three things isn't huge, and yet people would sit out there for hours and hours," Mr Farrelly says.
"I needed for myself to understand – I've always said be very careful before making judgements. I wanted to know some of the stories and, I tell you, it was hard. There were a lot of newborn babies on the streets this year, a lot of young mothers and a lot of grandmothers looking after kids.
"The stories were heart-rending and they were very genuine, and I am now convinced that we really do have a major issue with child poverty in New Zealand. That was pretty major for me."
Mr Farrelly has a long connection with the health sec­tor. He joined the Northland Area Health Board in 1991 and worked first in HIV and Aids care, support, education and advocacy, before managing Dargaville Hospital and then moving to Manaia. He also spent 10 years working with poor communities in a slum in the South Korean capital Seoul. As a result, he views homelessness as be­ing inseparable from health issues.
Integrated medical service
Auckland City Mission has its own integrated medical service, the 1600-patient Calder Health Centre located next door, partly funded through capitation from Auck­land PHO. Its work is crucial in improving the lives of the "streeties" – or simply keeping them alive.
Outreach teams go out at 6am every morning to where people are sleeping – under bridges and flyovers, in door­ways, in parks – and either treat them wherever they are, or try to get them into the health centre.
"Among that group of people, we have people who are terminally ill or in palliative care," Mr Farrelly says. "A lot of people die on the streets, and we are with them in that place. So it's from that extreme end. And we will even bury them. But it's vast – you can imagine the skin conditions, the cellulitis, the bad feet, and remember that most of these people anyway have some impairment and are mentally ill."
Very very very ill
Not all of the centre's enrolled patients sleep rough; many are simply people on low incomes or with complex mental health or addiction problems, or working in the sex industry. But Mr Farrelly describes the group as "a very, very, very ill and very sick and unwell population". And because of extremely high utilisation rates – 13 or 14 visits a year – it makes the viability of the VLCA cen­tre impossible, without extra funding from the mission.
This clearly annoys him. "It's a joke. The system will not fund us. And, to me, there's immense injustice in this. There's a structural inequity that the health system hasn't yet been able to come to terms with funding our most vulnerable."
Calder centre GP Richard Davies shares some of that sense of injustice. "I feel sometimes quite indignant on behalf of some of my patients," he says. "I would like to see them get a slightly better deal from society."
Dr Davies admits he wasn't vocationally drawn to work with the homeless or in addiction medicine but, three years on, he's loving it. A common theme among his pa­tients is that they've had negative experiences in other areas of the health system, where doctors are not geared up to deal with patients who have no address, have low health literacy, struggle to keep appointments and can't stick to a healthy diet or keep their wounds clean.
Some of the diseases of the homeless are the same as for other patients: diabetes, hypertension, obesity, ischae­mic heart disease. But some are not. He estimates his pa­tients have 10 times the average rate of hepatitis C infec­tion, around 15 to 20 per cent of those enrolled. There is a lot of methamphetamine and alcohol abuse and serious mental illnesses, such as schizophrenia.
And then there is scurvy. Dr Davies surveyed 20 of his drop-in patients and found two were suffering from the disease, and five had serious vitamin C deficiencies.
Like Mr Farrelly, he is adamant that homelessness and health are inextricably linked. "It is a health issue. Just as clean drinking water or good air quality is a health issue."
Number of rough sleepers doubles
Mr Farrelly was just two weeks into the job last year when the mission's annual street count found the num­ber of people sleeping rough had more than doubled in the previous two years to about 228.
"It was a shock to everybody," he says.
He calls it a crisis, and recognises its sensitivity as a po­litical issue, while acknowledging that many politicians seem unable to utter the word.
"The word crisis is a health word. It came out of the 17th century when a patient was at a point of illness where, unless an intervention happened, they would die. Crisis is a point where, if we don't do something, we're going to be in dire, dire straits."
The causes of homelessness are much more complex than simply the cost of housing in Auckland. They in­clude debt – "loan sharks are prowling the whole time" – mental health and addictions.
"The availability of dangerous meth is rife," he says. "It's killing people on the streets."
The justice system ill serves disadvantaged and unwell people, and education failure condemns many to low in­comes. The result is generational homelessness.
"We have people here who were born on the streets of Auckland. They're now 20, 30-year-olds. Their whole life and their parents were in it."
He has observed the problem in other countries, such as Canada, where he says the city of Calgary, similar in size to Auckland, houses 3000 people in homeless shel­ters every night.
"It's out of control. If we in New Zealand do not do something radical now…then we will lose control. We're at this point where we can make the changes, if there's a government will, a national strategy, a council strategy…to work on this."
Big organisation, big plans
Auckland City Mission is a big organisation with big plans. Its current annual operating budget is $5.5 million, out of which it fundraises $4.3 million. It has 82 staff full and part time. Mr Farrelly argues the most effective way to deal with homelessness is to house people first and then look at their other issues. The aim is to house 60 of the longest-term and most chronic streeties this year and then wrap all the social and health services around them.
"If necessary on an hourly basis. Whatever it takes to keep them in that place. I see health as a major component of this."
The focus will be on Housing New Zealand properties, private houses and, if necessary, the mission will build some itself – single units which will come on stream in three to four years. These will be run along the lines of a New York scheme known as Common Ground, with a range of tenants, including working people, and strong concierge controls to keep out troublemakers like drug dealers. Some government funding will be needed, as well as large-scale fundraising.
The existing building, with all its nefarious ghosts, will be demolished.
He admits getting private landlords to take in hard-core homeless people is difficult –"they're the tenants from hell" – but is confident that, if Auckland City Mission it­self is seen as the tenant and there are firm guarantees, landlords will come forward.
Dr Davies is accustomed to dealing with the demands of wayward patients. Strict protocols are in place at the Calder centre and staff carry personal alarms in case of trouble. They are trained in how to de-escalate.
"If somebody is shouting at the receptionist, I will hear them outside my door. Occasionally, I consult with the door open. We have to be careful but usually it's avoid­able. It's generally not that confrontational."
It's vital to build a rapport with patients and take a non-judgemental view, he says.
"You hear the most horrendous stories of sexual, physi­cal and emotional abuse in childhood. One young woman was raped as a child…a young man who started drinking or using drugs at the age of 13. It's not surprising at age 50 they are still struggling. The patients are very appre­ciative of the care they get. They have struggled in main­stream health services.
"Several of our clients have died over the last year on the streets, and there are a number of young pregnant women on the streets. You develop a relationship and you mourn them when they die. But I think it's a great job. I really enjoy it, it's worth getting up for. It's a job that needs to be done."
Still learning on the job
Chris Farrelly is still learning on the job and says he's still "hungry" for advice. His role is more public and more political than he could have imagined. This is not an as­pect he particularly enjoys, but at the same time he views it as a huge responsibility.
Over summer, he was portrayed in some media as agree­ing with comments by Sir Bob Jones about "fat Maori" beggars, the subtleties of his message about wanting to get people off the streets lost in translation.
Some people in New Zealand would prefer street people were out of sight, out of mind, he says.
"Occasionally, we've got comments coming on our website [saying], why are you feeding these fat people…fat people, again…out there, smoking on the streets, why don't they get off their fat arses and go to work. And that kind of shocked me. How could you? How dare you? I mean. To be poor in New Zealand is to be fat. Y'know, that's part of it, because you just don't have the right food. We know all that."
He prefers to focus on the generosity of Aucklanders: the 5000 people who volunteered last year, the 10,000 donors, the 13,700 emergency food parcels distributed – all given freely. He recalls the Air New Zealand crew who arrived overnight from London, and spent their next day working at the mission.
"In my job, in only six months, I have seen compassion, care and generosity on a scale that is overwhelming. In that, there's a subtle message, I think, to the politicians."
On the way out of the mission, I notice folded bits of paper taped to the glass office partition. Each one bears a single name. One is a reminder to pick up blood test re­sults from the health centre next door. This is as close as many of the clients get to a letterbox. A home.
The traffic is still thundering along Hobson St and, at the Sky Tower nearby, high rollers are no doubt throwing thousands of dollars away on random numbers.
Two homeless men sit on the pavement, sharing a ciga­rette as a hatchback pulls up, loaded with boxes of food.
As Chris Farrelly says, this is a health service, in the wider sense.
He is grateful for his training in public health, commu­nity health and community development – "my experience over all my life that I am bringing to this place now".
Mission healthcare: Serious symptoms, complicated histories – and a turnaround
Auckland City Mission staff give an insight into some of their patients:
Pat is a gentle, softly spoken man in his 50s, of Maori and Croatian descent. He grew up on the East Coast and, as a young child, was severely injured in a farm accident, leaving him partially deaf and with limited use of one arm. His education suffered and, although he can read, he struggles to understand letters and fill in forms. He has worked as a kitchen hand, in caregiving and gardening but has never managed full-time work. Pat has been sleeping rough on and off for the past six years. He found it difficult to maintain regular rent payments. Sometimes he eats at Auckland City Mission, sometimes he scavenges from bins. He started to drink heavily and has been in detox a couple of times.
A few years ago, he developed type 2 diabetes. Pat has had a difficult relationship with medical services in the past. He often felt judged. It is a challenge to manage regular medication when you live on the street and have nowhere to keep it safe and dry. As he developed a more trusting relationship with doctors, practice nurses and the pharmacist, Pat understood better the rationale for regular medication which is blister-packed for him. His HbA1c came down from 168 to 60. He is drinking less.
Pat has difficulty with hospital appointments. He doesn't have an address or a phone. Like many of the clients, he can use the Auckland City Mission address. But the appointment letters are hard to understand, and sometimes he throws them away in frustration.
The next challenge is to get him secure housing. This is essential if his health and life expectancy are to improve.
Last winter, a man came to the health centre who had been rough sleeping. His back was giving him serious pain, but the emergency department had turned him away because they thought he was intoxi­cated. He was soaking wet when he arrived, and his face was really pale. When he took off his shirt, he had a huge abscess on his back the width of a golf ball – it was red, horribly infected and excruciatingly painful. Since he didn't have a mirror, he thought he'd just slept wrong or strained a muscle.
Staff are able to administer IV antibiotics at the Calder centre, so they immediately cleaned the abscess and started him on a course. The drop-in centre next door found him some dry clothes and shoes, and he returned two more times that week for further treatment. By the end of the week, he had completely transformed – the wound was almost gone and he had colour in his face again.