US funds go into new central Auckland practice targeting busy workers
+News
US funds go into new central Auckland practice targeting busy workers
Tuesday 13 February 2018, 03:35 PM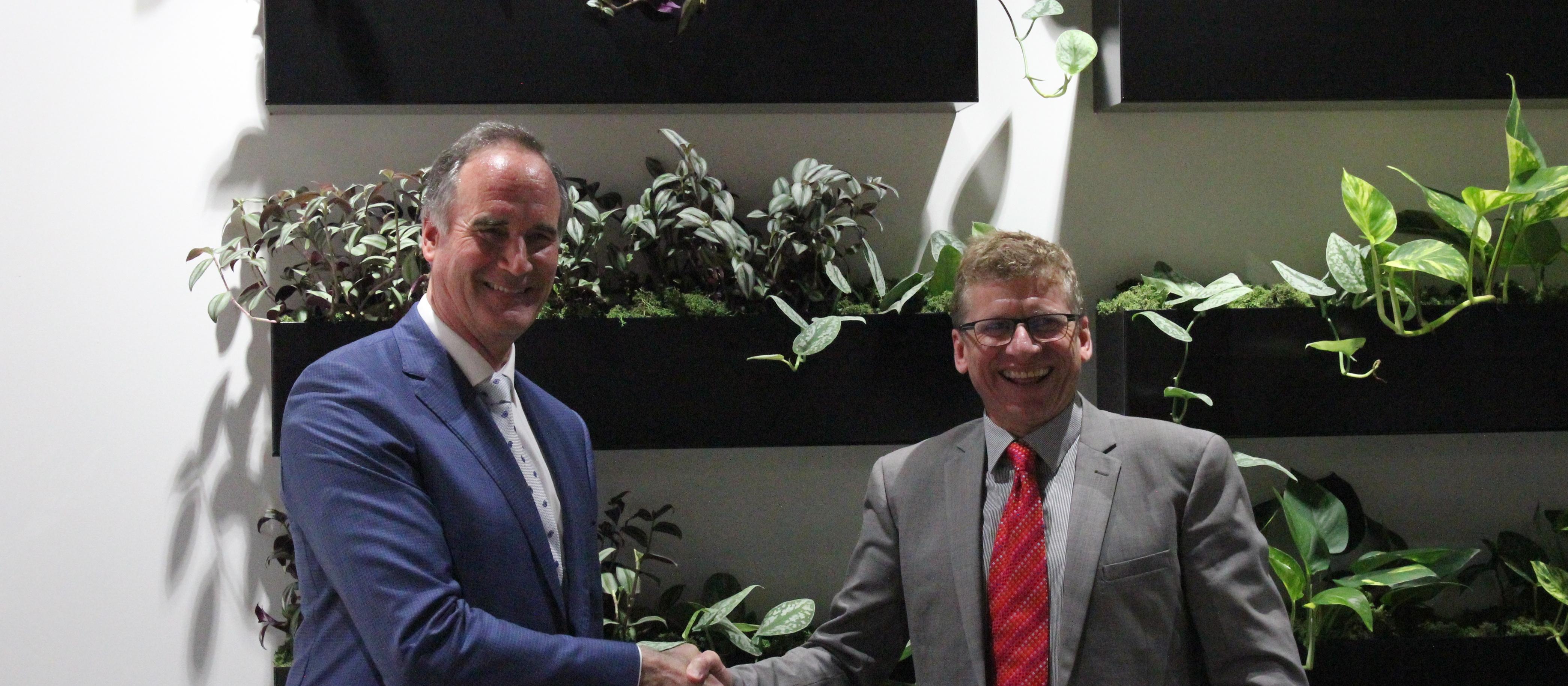 Sanford Health World Clinics executive vice president Daniel Blue, and OmniHealth managing director Mark Wills shake hands to mark the opening of new Auckland CBD clinic, Shortland Health
Traditional healthcare provision suffers from a lack of investment in new services
Small general practice network OmniHealth has attracted US funding to set up a new medical practice in central Auckland.
The new practice, Shortland Health, officially opened yesterday in Shortland Street, with former Marsden Medical Practice GP and GP teacher Jim Lello, Mt Eden GP Jodie O'Sullivan and former Hamilton Fertility Associates specialist Kirsty Gendall on the team.
The practice sits inside the foyer of an upmarket inner-city office block, 51 Shortland Street, and has a foyer café as its immediate neighbour.
OmniHealth, a network set up in 2014 by Mark Wills, who has previously held chief executive roles with Peak Primary and ProCare Health, is 50 per cent owner in the practice; Sanford Health, a large US not-for-profit health organisation, holds the other 50 per cent.
Mr Wills, OmniHealth's managing director, says the GPs will initially be employees of the practice, but the opportunity for them to take on ownership as shareholders will come later.
The sleek central city practice is tailored for those working or living in the centre of town, who Mr Wills says are underserved with a lack of general practices in the area.
Auckland CBD is growing swiftly, with 45,000 people living in the centre of town as of last year. Mr Wills says 120,000 people work in Auckland central each day.
Practice a member of ProCare
The practice is a member of PHO ProCare Health. It offers physiotherapy and lab services on-site, and an on-site pharmacy, currently being fitted out, is expected to open in four to five weeks.
The practice is to have visiting specialists suited to its patients, offering on-site clinics including first specialist assessments.
Shortland Health has no waiting room. Instead, the practice aims to let patients know of delays ahead of time and have nurses see patients ahead of GP appointments.
Mr Wills says Sanford has promised any profit from the venture will stay in New Zealand. As OmniHealth is Sanford's only Kiwi partner, he expects that money would go toward ventures involving OmniHealth.
OmniHealth chief executive Mark Wills explains the partnership between OmniHealth and not-for-profit US organisation Sanford Health
The South Dakota-headquartered Sanford Health is funded by donations of nearly $1 billion over the past decade from US businessman and philanthropist Denny Sanford.
Sanford Heath runs 46 hospitals and 300 clinics, with 28,000 employees including 1400 doctors
OmniHealth has already partnered with eight practices around the country. Shortland Health is the first clinic it has opened from scratch. It is also the only project with investment from the US organisation.
Three GPs move in
Eighteen months ago, GP Kirsty Gendall moved back to Auckland from the Waikato, where she had been working at Fertility Associates for 11 years. Most recently, she has been working for Family Planning, but now she will be working 32 hours a week at the new practice.
She says the opportunity to work at a newly started practice and be part of creating the culture is exciting.
Being part of a group like OmniHealth is also great, she says, as GPs aren't trained in business or staff management, and it's something she is happy to have others do.
Auckland GP Jodie O'Sullivan is reducing her hours at her Mt Eden practice to take on two half days at the new practice. She, likewise, says she is interested in being involved in a new way of working and hopes it might "keep her in the game longer".
She sees the practice catering to a specific demographic – the time-poor, inner city worker, who may not be that good at looking after their health and who needs the convenience of a practice close to work.
Shortland Health GP Jodie O'Sullivan explains the inner city business community demographic being targeted by the new clinic 
Also handing over the management duties is Jim Lello, who says the partnership with Sanford Health brings the advantages of its outreach programme and understanding of efficiencies in healthcare.
Dr Lello is the new medical director of GSK and last week sold his practice to OmniHealth, moving to work part-time at the new centre.
Selling the practice to OmniHealth satisfies his need to make sure his patients are looked after, he says. He expects around 50 per cent of his patients will ultimately move to the new practice.
And while it has an initial focus on the inner city, working person demographic, Dr Lello says he can see a time when some of his suburban patients might become apartment dwellers in the inner city.
The practice has a high ratio of nurses to GPs, and includes nurse practitioner Monique Pearce, who has also moved from Marsden Medical.
Prescriptions delivered to the desk
Shortland Street Pharmacy is owned by pharmacists Michael Mishriki, Himesh Chandra, Ziheng Zou and Karen Hu.
Mr Mishriki says they expect the new pharmacy to have a service model focusing on dispensing and consultations. In keeping with the focus on the inner-city worker demographic, the pharmacy will, where possible, deliver prescriptions to the office of patients in the surrounding area.
Mr Zou says under the model being put forward by OmniHealth, the pharmacy is hoping to work closely with the practice and will operate from 7am to 7pm, five days a week.
Programme of world clinics
In January, Sanford Health made public its plans to increase its global presence by partnering with healthcare organisations in seven countries under its "world clinic" programme.
The organisation also has partnerships in Ireland, Costa Rica, Vietnam, South Africa, Ghana and China.
Sanford Health World Clinics executive vice president Daniel Blue, a family doctor, was in New Zealand for the opening.
Dr Blue says the aim of the world clinics is to learn how health is delivered and funded in other countries, to help improve the US health system.
People don't know who Sanford Health are, Dr Blue says, so another part of the investment is about brand and reputation.
He would not disclose the value of the investment into the clinic, but says the organisation is putting about US$8 million per year into its world clinic programme.
The organisation intends to be involved in more clinics with its partnership with OmniHealth, Dr Blue says, including practices for high-need patients.
New investment for primary care
The collaboration from overseas is the latest in a string of new investment in primary care in New Zealand.
Last year saw Nirvana Health Group partner with Mercury Capital, an Australian private equity fund, in a 50:50 ownership structure.
Other practices have turned to New Zealand investors to fund bigger, better medical facilities. Pakuranga Medical Centre, due to open it's $15 million new centre midway through this year is one example.
Mr Wills says OmniHealth and other groups are seeing the ability to bring more capital into health.
Traditional healthcare provision suffers from a lack of investment in new services, he says.
RELATED ARTICLES - Before 1 August 2017 are stored in the Knowledge Basket