Wild Rose, thorny problems
+In the spotlight
In print
FEATURE
Wild Rose, thorny problems
Monday 13 November 2017, 05:10 PM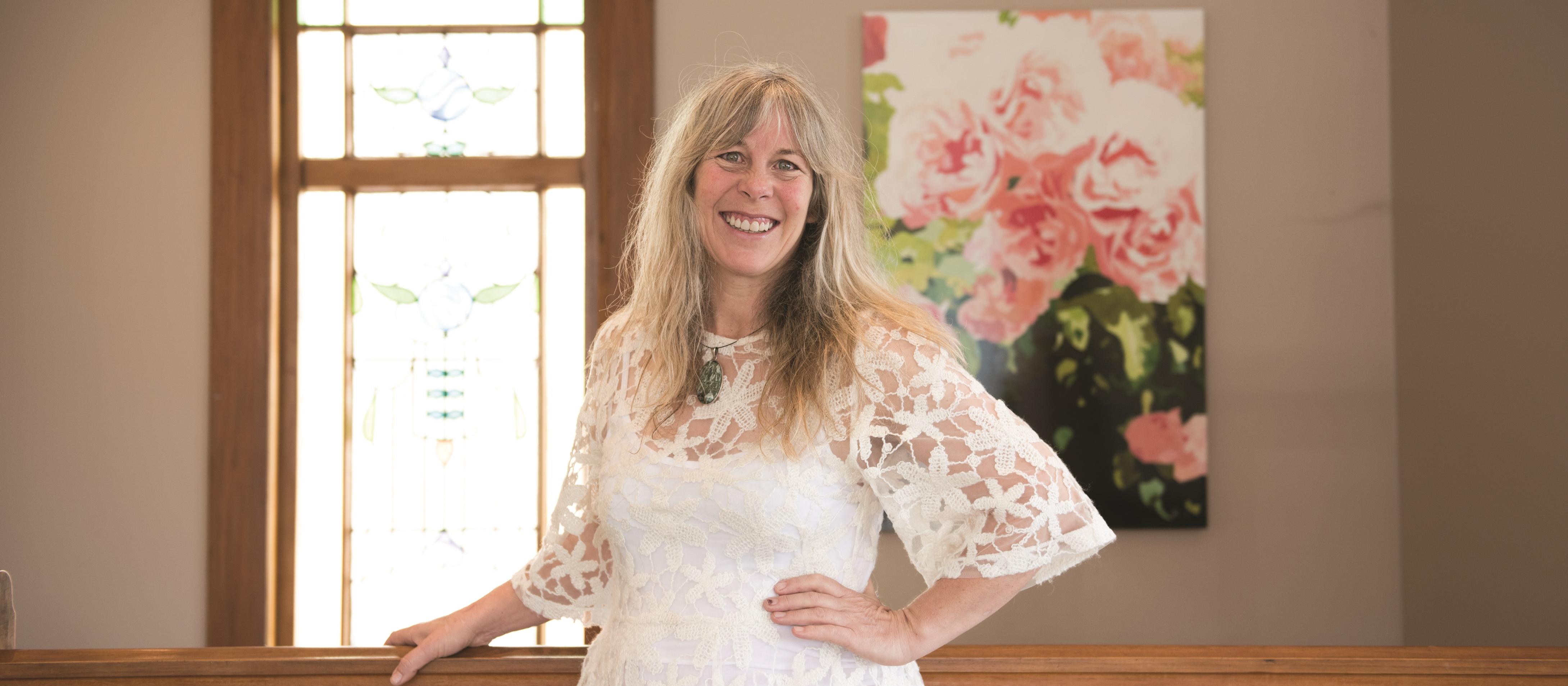 GP Rose Bruce, who is on the Taranaki DHB board, sees a "messy" but hopeful 10 years ahead as medicine is shifted to the people
Rose Bruce is not afraid to tackle taboo subjects, welcomes the era of healthcare via your cell phone and champions general practice in an age of underfunding. Her online handle is WildMother2. Aaron van Delden talks to the irrepressible mother of two, a GP, surfer, tree-hugger and, more recently, Taranaki DHB board member
Money for a hip replacement would go a long way if spent keeping youngsters free of nits and scabies, making sure they're immunised and stopping them from taking their own lives
She's helping out at a high-needs, hard-to-staff Waitara general practice, has a full-time job at New Plymouth's MediCross Urgent Care & GP Clinic, works as a police medical officer and represents her community on Taranaki DHB.
The endless workdays are like being a house officer again, says GP Rose Bruce.
At 49, she knows she can't sustain her current workload for long. Still, it's hard to say no.
Dr Bruce lets exhaustion weigh on her for a moment, gazing towards the Sugar Loaf Islands from her 1920s' English cottage in central New Plymouth.
The trees had her sold on this property, the massive oak in the backyard her favourite thinking place in elusive moments of downtime.
But the main reason she shifted into the city a year or so ago was the commute from her former home 15km south, at beachside Ōakura. Travelling up to 150km in a day – for her job and to ferry around 13-year-old twin daughters – was getting tiresome and dangerous, she says.
The moment passes, and Dr Bruce takes pen and paper to illustrate how the primary care business model is bankrupting doctors and why an overarching vision is essential to the workings of the public health system.
Her history with Taranaki DHB began in 1994, when she became a house officer at the region's base hospital in New Plymouth.
Medicine followed an arts degree. It was the cervical cancer debacle at National Women's Hospital that prompted Dr Bruce to train in medicine.
"I was in my 20s, and I couldn't believe that women were being treated as if they were potatoes," she says.
Instead of standing outside the hospital holding a placard, she decided she could make more of a difference within it.
The keen surfer based herself in Ōakura, which meant she couldn't be called back into work if she'd had a drink. This was a valuable strategy, because the hospital was seven house officers short, and the ex-car salesman who ran it thought Dr Bruce and her colleagues were lying about the number of hours on their time sheets. (He got to see for himself how strained they were when he had a heart attack and was rushed to the emergency department.)
Dr Bruce sees hope in new moves to shift medicine to the people, but she says it won't be an easy transition. She picks up her cell phone and points to an app called Ada, "your health companion", which doctors and patients can use to figure out what might be causing a cluster of symptoms.
"Ultimately, I think medicine is changing, in the same way that we saw when religion owned the word," she says. The Gutenberg press spread the written word widely, allowing people to exchange ideas. Similarly, technology is finding a way to let people have medicine: "That's why there's so much pushback from doctors."
The next 10 years will be messy but incredibly interesting, she says. DHBs will need to continue catering for the haves, "who want everything", the have-nots, "who will still need us", and the lawyers, while working within their budgets.
She favours a limited form of user-pays. DHB leaders must start making the argument that people should pay, say $5 a week, for DHB services, just as they do for council services through rates, she says. "Otherwise [universal coverage] will disappear, and our health system will become like America's."
She's advocating a new fund, much like KiwiSaver, be set up. Citizens and the Government would make regular contributions, which would pay for a person's healthcare when needed.
"I think it's absolutely hilarious that we have KiwiSaver releasing money for a house but not your health," she says. People can withdraw their KiwiSaver funds early if they have an illness, injury or disability, but only if it permanently affects their ability to work or poses a risk of death.
It's like Pike River – an impossible job with not enough money, and then you get taken to the health and disability commissioner because someone dies
Dr Bruce had been fearing the return of a National-led government. In recent years, the lack of leadership from the Ministry of Health and the Government has frustrated every DHB, she says.
She's no fan of neo-liberalism, saying it puts a dollar value on all forms of work, making it hard to be in a caring profession. "It's like Pike River – an impossible job with not enough money, and then you get taken to the health and disability commissioner because someone dies."
Of new Labour prime minister Jacinda Ardern, she says: "Even though we don't know what she is thinking, she's got vision, and with vision comes hope."
Elected to the Taranaki DHB board in October last year, Dr Bruce believes her voice is making a difference. Without it, the interface between primary and secondary care, which has always been bad, would only get worse, she says.
The two sectors, at odds with each other, are actually fighting the same war, she points out. Both bear the brunt of family violence, neglect, poverty, addiction, an ageing population and doctor shortage, and both need to find solutions that ensure the least amount of money does the most amount of good.
She draws another diagram, pointing out primary care's diminishing share of DHB funding. It explains the way many GP clinics have become unsustainable, she says.
Capitation rates have been stuck at 2005 levels, with only incremental changes, certainly not enough to make up for cost-of-living increases. And GPs have been left to show a massive amount of goodwill, absorbing costs not covered by funding or fees. Many of those GPs are retiring early, going part time or walking away from the profession.
Only "big, kick-arse" healthcare home-type practices, with patients who can pay to see a doctor, can make money, according to Dr Bruce. "But how could you set up a Green Cross in Pātea?" The south Taranaki town has struggled for many years to attract a permanent GP. Locals would not be able to afford the fees charged by a corporate practice.
Rather than review and reform the system, she reckons it would almost be easier "to swallow that dead rat and say, 'Right, primary care is free, and the hospital is free'".
She observes the wealthy getting what they need, "because they've got Southern Cross, ACC and a lovely little GP with no meth addicts in the waiting room".
Poorer people, meanwhile, rely on the likes of Newtown Union Health Service, a Wellington Very Low Cost Access practice, which Dr Bruce says provides a high standard of care to all comers. She questions Capital & Coast DHB's decision to cut funding to the centre in 2012, spelling an end to its midwifery service.
GPs are now being asked to change again, and many are close to retirement, she points out. It is too much to expect them to invest in a healthcare home, employ "noctors" (healthcare workers who share the less complex clinical load) and run new, targeted services.
Dr Bruce says the magic of primary care lies in the relationships a doctor builds up with patients over generations.
"You know the bad eggs, you know the families whose fathers are addicted to P and coming home to beat up the kids…but there's no reward for that, no dollar figure attached to it.
"You don't want to have to set up an art-house cinema to make cash in order to practise medicine," she says. (Though this is exactly what she did in New Plymouth for several years, until the Christchurch earthquakes made it obvious the old theatre was unsafe.)
Practice sustainability eroded as the previous government stripped back public services, she says. GPs were left to take on the work previously done by community health workers or family planning clinics.
"We've become disillusioned with DHBs because they are the purse holders…but the cash hasn't followed the devolution of services."
Take the case of the new treatment for hepatitis C, Viekira Pak. For DHBs asking why some GPs aren't providing it, Dr Bruce has an answer.
"For a start, you need more than 15 minutes to discuss this treatment with a patient. There's no
money for that person to see me three months in a row so I can monitor their progress, and there's been no publicity to encourage people to get the test and then get the treatment."
Four of her patients would be eligible, but their lives are too chaotic for the treatment to be safely administered. Viekira Pak, a form of chemotherapy, can lead to foetal abnormalities, and it could interact with recreational drugs, she says.
"If I wasn't on the DHB, who would be telling [the managers] this? They'd just been thinking, 'Oh, lazy GPs!'"
Dr Bruce was prepared for the meetings and bureaucracy she'd need to wade through to have an influence on the DHB, but she hasn't discovered any dirt on the organisation. It is a well-functioning board, she says.
She's pushing the DHB to do more for youth health.
"Our old people, that's how Winston [Peters, New Zealand First leader and deputy prime minister] got in, those people feel unloved," she says.
She warns that focusing on elder health, a hot topic for DHBs preparing for the "silver tsunami", will lead to our youngest citizens missing out. "Yet young people are going to be our future, and they are not expensive to look after."
Money for a hip replacement would go a long way if spent keeping youngsters free of nits and scabies, making sure they're immunised and stopping them from taking their own lives. It's about choosing what to value, says Dr Bruce.
She saw this in action in Indonesia. Working there as a public health student, she discovered the locals defined their priorities, rather than trying to emulate high-cost Western medicine. They focused on controlling tuberculosis, preventing children dying of diarrhoea and pregnant women dying of anaemia secondary to malaria, and making sure kids had nutritious food.
Public health nurses taught children about signs of TB and anaemia, so they could bring their parents or grandparents into the village to see a nurse. They made huge inroads without any money, says Dr Bruce.
"We can do that here. We just need to decide what we give a toss about."
She would like to see a strong challenge to the industries peddling alcohol and cigarettes. "I'd be able to spend all day surfing if it wasn't for smoking," she says.
Proponents of harmful products are always quick to put forward the "nanny state" argument when regulation is proposed. "But is it considered nanny state to require people to have decent tyres on their cars?"
Online, Dr Bruce calls herself Wild Mother – wild, she says, because of her crusade against the non-communicable diseases caused by alcohol, cigarettes and junk food, and as a staunch advocate for immunisation.
Excess is behind every call she makes to the police, Oranga Tamariki or Department of Corrections about patients facing "things too horrible to contemplate". But she is hopeful the age of excess – she points to the "McMansions" built by baby boomers – is coming to an end.
Meanwhile, it's onwards with her advocacy. She has asked the Taranaki DHB board to consider free flu jabs for children next year, following the worst flu season she has ever encountered.
Taranaki Base Hospital was so inundated with patients last winter that a ward for sick babies was set up in the staff gym. At $2000 for a night's stay in hospital, the $30 or $40 for the vaccine would soon pay for itself.
She is also seeking innovations in sexual healthcare provision. In the UK, the NHS supports a service so people can order STI test kits online, complete them at home and return them by post, receiving test results and information on their phones.
This, she believes, would be perfect for communities like Pātea, where local primary care is limited and family planning unavailable. In New Plymouth, the family planning clinic has no doctor and is open just two hours a day.
Dr Bruce's rapid-fire conversation has to be cut short. Her next shift at MediCross begins at midday, and it's 11.45am.
She offers a final thought.
"We need to value humans. All of us at some time are going to be weak, are going to need some help.
"That's why the health system needs primary care to speak to the DHBs, because it's easy for DHBs, with their budgets and data, to be mean."
RELATED ARTICLES before 1 August 2017 are stored in the Knowledge Basket