Identifying Unwarranted Variation in Diabetes Prescribing
Identifying Unwarranted Variation in Diabetes Prescribing
New GP dashboard now available
Thursday 8 April 2021, 10:38 AM
2 minutes to Read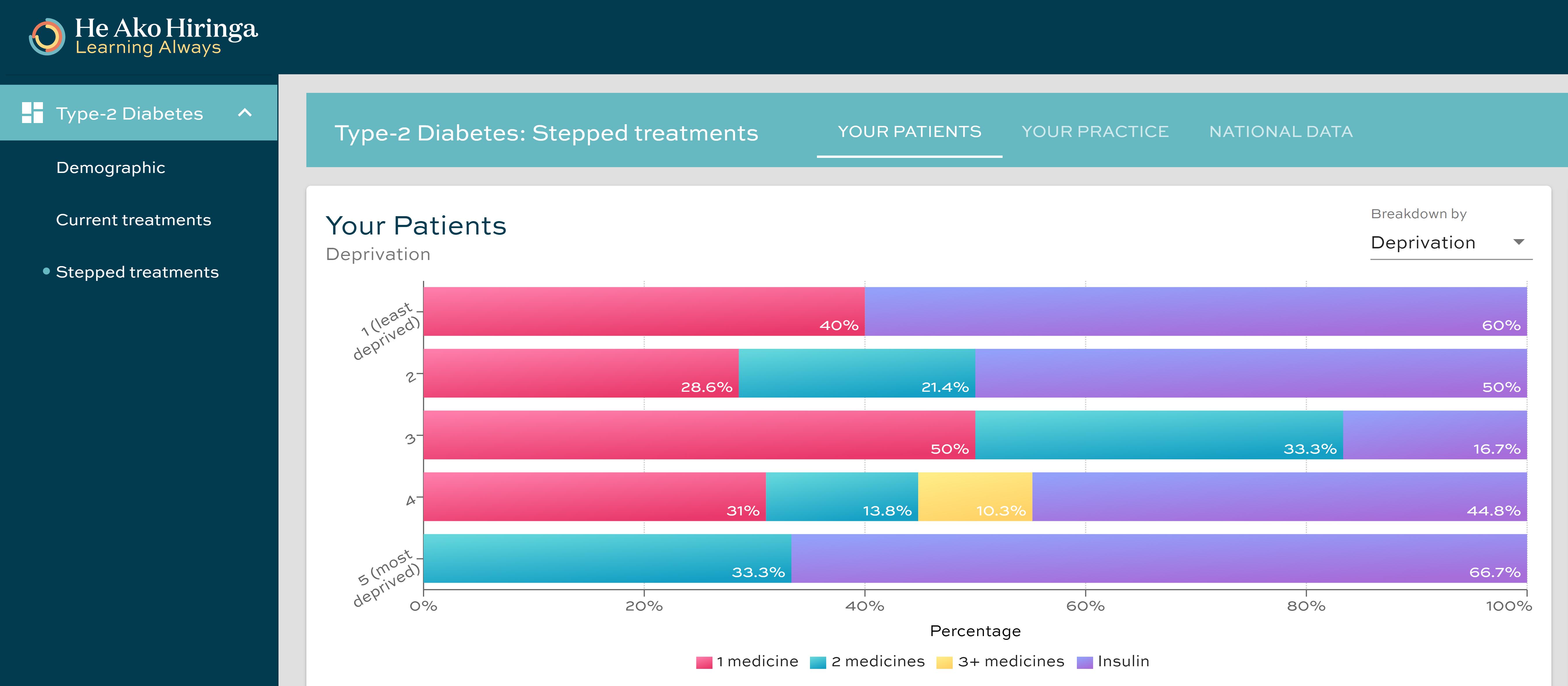 EPiC, a free dashboard built for GPs interested in improving their practice with respect to equitable prescribing of funded medicines, is now available at akohiringa.co.nz
The first dashboard, EPiC Diabetes is targeted at GPs and supports PHARMAC's focus on improving the appropriateness of prescribed, funded medicines used in the treatment of type 2 diabetes, particularly for Māori and Pacific peoples.
What can EPiC do for GPs?
By being able to see who prescriptions are going to, the type of medicines being prescribed and the number of treatments their patients are receiving, GPs can easily analyse their own prescribing behaviours.
EPiC allows GPs to see how their prescribing differs to others', both within their practice and across the country. EPiC's different filters and comparison options allow GPs to drill into the data and see where small changes can make a real difference for specific patient groups.
EPiC can also assist GPs in completing professional education activities such as reviewing and reflecting on practice and measuring and improving outcomes.
Future EPiCs
Future releases of EPiC will include data around asthma, cardiovascular disease and gout management. EPiC's development plan is also being finalised to allow expansion for nurse and pharmacy prescribers.
Non-GPs can still use the dashboard to explore prescribing trends in the use of medicines for type 2 diabetes at a national level.
Ready to get started?
To access your EPiC dashboard you must:
Have a He Ako Hiringa or New Zealand Doctor account
Be a prescribing GP working in New Zealand (MCNZ number required)
Have a text-capable mobile phone
Have a current driver licence or passport
Have access to an internet browser (not support on Safari)
Are you a New Zealand Doctor subscriber?
Signing up for EPiC is easy, click here to get started on your EPiC journey.
Once you have done this you will receive an email, within two working days, advising that your EPiC account has been opened. Then go forth and explore!
Not a New Zealand Doctor subscriber?
All you need to do is register with He Ako Hiringa, by clicking here.
Once you've registered with He Ako Hiringa, you will be asked to verify your account by email immediately. Once you have done this you will receive an email, within two working days, advising that your EPiC account has been opened.
Want to know more? Check out more below on how to use EPiC
Stepped treatments:
The stepped treatments section of EPiC allows GPs to view their patients by the number of glucose-lowering medicines they have been dispensed. Patients are grouped into either one, two, or three or more oral glucose-lowering medicines, or insulin.
Stepped treatments data can be especially useful in helping you to identify which of your patients would qualify for, and/or do best on, the newly funded diabetes medicines.
Note: All data can be filtered by ethnicity, deprivation quintile, age group or gender. You can also compare your prescribing to patients within your practice and to the national data set.
EPiC Demo Site
Get a feel for the EPiC dashboard by exploring our EPiC demo. The EPiC demo looks exactly like the EPiC dashboard, except the data isn't personalised to you. You can use it to navigate EPiC's features, filters and layout. Using the EPiC demo is easy, you don't even need a log in.
A word about data privacy
Individual GP prescribing trends are not shared with any party other than the prescribing GP. To protect your privacy and the integrity of the Pharmaceutical Collection data, you will be asked to provide your full name (as displayed on the Medical Council of New Zealand register) and go through a two-step identify verification process upon first logging into EPiC. Please make sure you have either a valid driver licence or passport handy.
Email admin@akohiringa.co.nz or call 09 488 4286 for any questions or issues.

Further information about EPiC's data methodology, specific data stories and FAQs can be found at akohiringa.co.nz