E-prescribing future is here but GPs slow on uptake
+Health IT
E-prescribing future is here but GPs slow on uptake
Wednesday 6 December 2017, 11:57 AM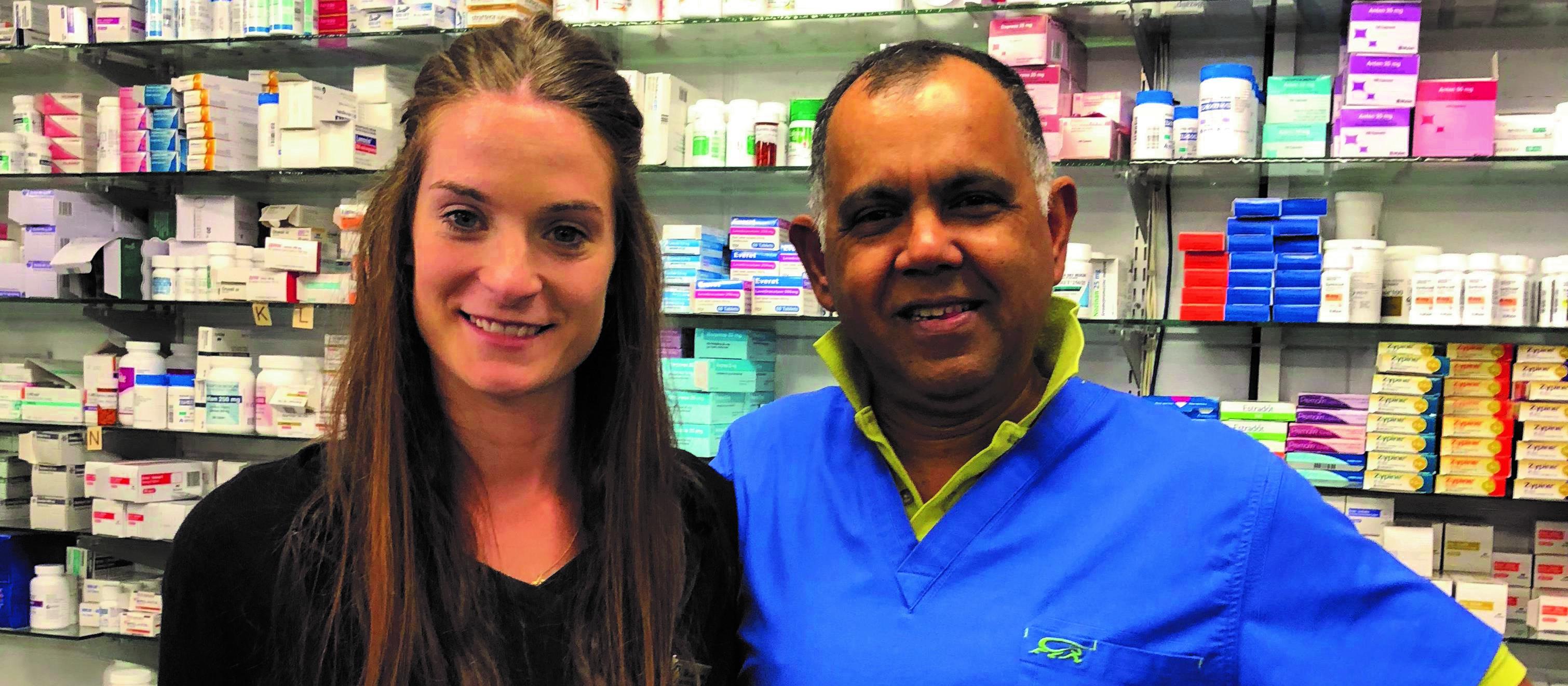 Brooke Hines and GP Andrew Narayan are excited about e-prescribing
Electronic prescribing has ticked a lot of boxes for staff at Queen Street Pharmacy in Wellington's Upper Hutt, but other health professionals aren't so quick on the uptake.
For the past 12 months, Queen Street Pharmacy staff have been scanning electronic prescriptions, in line with the rollout of the Ministry of Health's New Zealand ePrescription Service (NZePS).
The service enables a barcoded prescription to be generated by the prescriber and given to the patient. When the patient presents the script at a pharmacy, staff can scan it and access all the prescription information on their computer.
Pharmacy co-owner Brooke Hines finds scanning e-scripts nearly eliminates transcribing errors, eliminates fraudulently copied scripts and cuts out time spent calling GPs about prescriptions and doing paperwork.
Changing the instructions on e-prescriptions is similarly convenient.
NZePS allows the prescriber to make a comment for the pharmacist at the time of prescribing and receive notification if a patient's medication has not been dispensed within a certain time.
The pharmacist is also able to make a comment for the prescriber when dispensing medicine.
The efficiency of the new system makes e-prescribing look like a no-brainer, but its use is still not widespread, despite the rollout beginning in 2013.
Only 66 GPs using e-prescribing
According to the Ministry of Health website, 66 GPs were using the NZePS as of June. This is out of a pool of around 1100 GPs.
In August, 38 per cent of all e-prescriptions issued in New Zealand were scanned by pharmacies.
Ministry data shows these figures are an increase on previous years, but the lack of uptake was aptly illustrated when Pharmacy Today rang around several pharmacies for this article and many had no idea about the service.
Ms Hines thinks it is inevitable the number of pharmacies receiving barcoded prescriptions will increase when more GPs start using them.
"Key to the success of NZePS is good communication between practice and pharmacy," she says.
"All pharmacies should be dispensing electronic prescriptions, but they're not."
She attributes this to pharmacists, in general, disliking change.
"Some are stuck in their ways and don't want to change; but, the more we get on board, the more feedback we get to improve the system and shape it to how we want the technology to work for us."
Cost prevents GPs signing up
Wellington GP and e-prescribing adopter Richard Medlicott believes GPs are not using the service as extensively as they should because their leadership balked at the monthly cost of $125 "without seeing the big picture".
"I guess the bottom line is that they saw the cash costs as being more than the benefits," says Dr Medlicott. GPs are not served well by ignoring the opportunity – he says e-prescribing saves both time and money.
For example, a prescription taking two-and-a-half minutes to write can be done in 20 seconds with e-prescribing.
If the technology is not taken up, Dr Medlicott believes DHBs will say doctors and pharmacists are not interested in going to the next level.
"It's a two-way street in that pharmacies and GPs get something out of it. We need to work with local pharmacy and get support from the ministry and make it work," he says.
Ms Hines thinks pharmacists need to take the initiative and outline the benefits to GPs to encourage them to take up e-prescribing.
She says she took the initiative and approached the owner of Queen Street Medical next door, Andrew Narayan, to get the practice on board.
Already, the technology is eliminating the need for controlled drug prescriptions to be handwritten on triplicate controlled drug forms.
Another advantage is that faxed e-prescriptions for non-controlled drugs can be accepted as original copies by the pharmacy if signed, barcoded and downloaded from NZePS, meaning that the practice no longer needs to send the original.
Even though e-prescribing isn't perfect, it forms the groundwork to a paperless mode and a more integrated and patient-centric system, she says.