Much ado about general practice in end-of-year DHB award ceremonies
+News
Much ado about general practice in end-of-year DHB award ceremonies
Tuesday 14 November 2017, 01:14 PM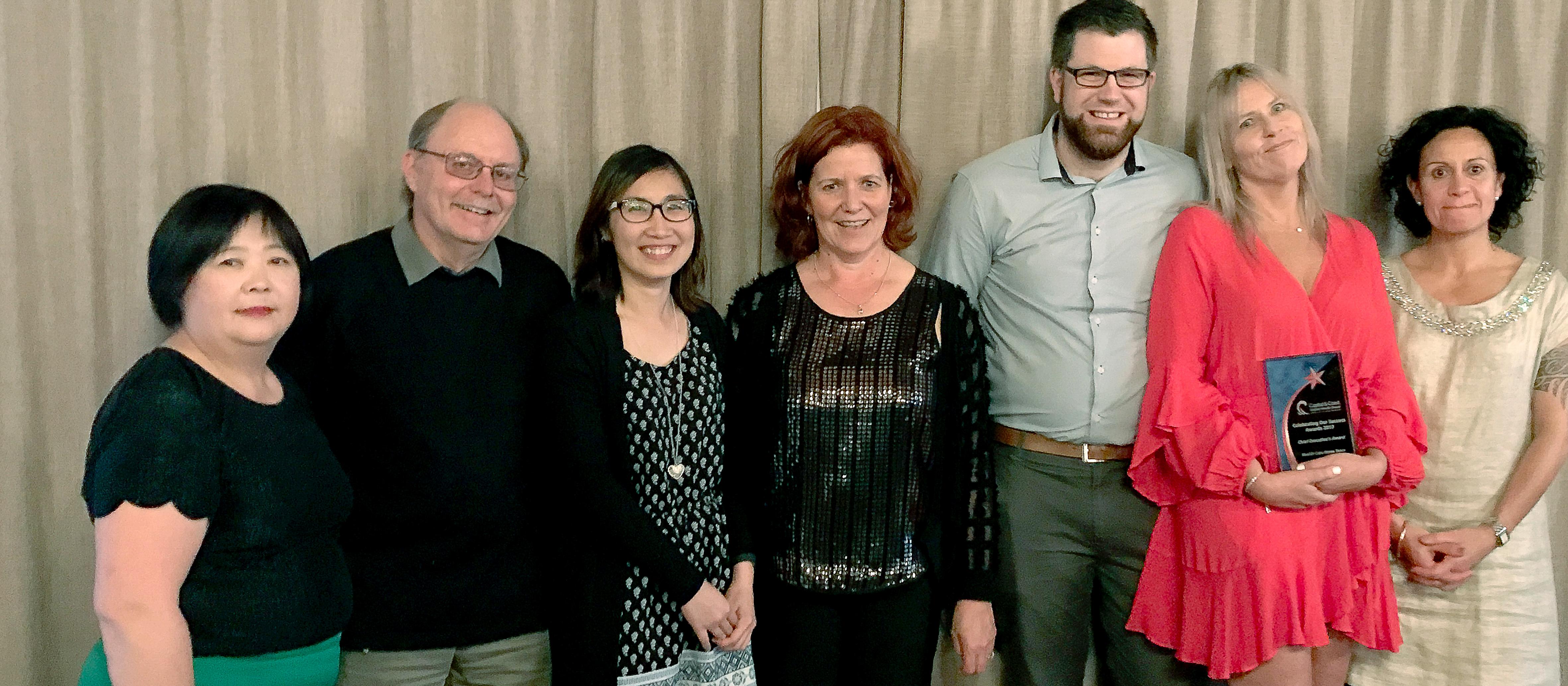 Capital & Coast DHB chief executive Debbie Chin with award-winners involved in health care homes: Chris Fawcett, Paraparaumu GP, Frankie Tran and Susan Ryan, Compass, Rob Stewart, Johnsonville Medical Centre, and Melissa Simpson and Jo Henson, Compass
The four practices first to make the leap to health care homes have said that, if they had the choice all over again, they would make the same decision 
Compass Health support for general practices to manage the change into health care homes has netted the big prize in the Capital & Coast DHB awards. 
The chief executive's award in the Celebrating our Success Awards last week went to Compass Health's health care home development team for designing and implementing the health care home initiative. 
The DHB chose nine winners from 125 nominations from staff, volunteers and providers. 
The awards acknowledge teams and individuals who have made a difference to improve the health of the community. 
Reduced ED attendance 
Compass chief executive Martin Hefford says a factor in the win was reduced emergency department attendances for practices in the first group that have taken up health care home approaches. These include acute care management, telephone triage and proactive care for complex patients at high risk of hospitalisation. 
"It is early days in terms of quantitative impact on secondary care utilisation," Mr Hefford says, "but…[DHB chief executive] Debbie Chin was pleased to see the [ED reductions], along with primary care-centric indicators like increased use of patient portals and Primary Options for Acute Care." 
Health care home development team leader Melissa Simpson says the team has "cut our teeth on the first 13 practices", and 18 more are waiting to start. 
The four practices that first made the leap (Karori, Newlands and Johnsonville Medical Centres in Wellington, and Raumati Road Surgery, Kapiti) have said that, if they had the choice all over again, they would make the same decision. This is reassuring, Ms Simpson says. 
"We have a structured way of supporting them…not all the changes are done at once, so they work through them in a 12-month implementation plan." 
The early adopters share lessons with other practices at bimonthly peer reviews. Workshops and open days are held for project leaders from the practices. 
Other awards made by Capital & Coast DHB 
Excellence in clinical care: Telestroke service 
Excellence in leadership and transforming organisational culture: Colin Milligan and Emma Williams for workload management; and Tumai Hauora ki Porirua Alliance and Porirua School public health nurses for skin conditions work 
Health and safety representative of the year: Sue Barber and Rachel Hardie, for safe handling training 
Innovation in the workplace: Lynne Gledstone-Brown for reduced IV cannulation insertions 
Excellence in research: Eeva Boman, Tom Satherley, Nanette Schleich, Dean Paterson, Lynne Greig and Rob Louwe for radiation dose reduction in skin cancer treatment 
Innovative use of technology: 3DHB ICT and Compass Health, primary care access to Concerto patient records system 
Excellence in sustainable health services: Post-anaesthetic care unit patient flow work 
Volunteer of the year: Age Concern's accredited visiting service team. 
Hutt's hospice innovation 
Earlier, Hutt Valley DHB presented Quality Awards to high achievers in its area. They included pilot programmes focusing on Te Omanga Hospice patients in general practice. 
Upper Hutt Health Centre nurse manager Maire Mackle says the pilot includes upskilling primary care to deal with increasing numbers of frail and chronically ill patients, eg, with end-stage chronic obstructive pulmonary disease or heart disease. 
Building relationships is key, with the aim of reducing the fragmented nature of care, Mrs Mackle says. Funding from the DHB, through the PHO, has helped hugely. 
"A lot of it is about having systems well set up, such as care plans so that problems are pre-empted." 
Two of the award winners have appeared in New Zealand Doctor this year – Upper Hutt practices collaborating to catch boys up on HPV vaccinations, and Hutt Union Community & Health Service's efforts to improve diabetes management. 
Full list of Hutt Valley winners 
Excellence in clinical care: Sarah Thomas, for hospital central line associated bloodstream project; and Kylie Bolland, for audiology leadership 
Excellence in community health & wellbeing: Faith-led wellness programme, Pacific Health Service Hutt Valley & Te Awakairangi Health Network health promotion team; and Linda Metuariki, Hutt Union Community & Health Services, Pomare 
Excellence in process & systems Improvement: Diabetes quality improvement team from Hutt Union Community & Health Service and Te Awakairangi Health Network; and close care project team, Hutt Hospital 
Excellence in the workplace: Janette McKevitt from the Child Development Service; and Nicky Smith, Bee Healthy Regional Dental Service 
Excellence in research: Rheumatologist Rebecca Grainger 
Excellence in integration: Palliative care patient journey team; and respiratory patient journey group 
Chief executives' awards: Upper Hutt HPV vaccination initiative; Helen Heaney, Ropata Medical Centre; care plan project team, Hutt Valley DHB.