Defying the experts, loving to the max
+In the spotlight
In print
Defying the experts, loving to the max
Wednesday 20 September 2017, 12:07 PM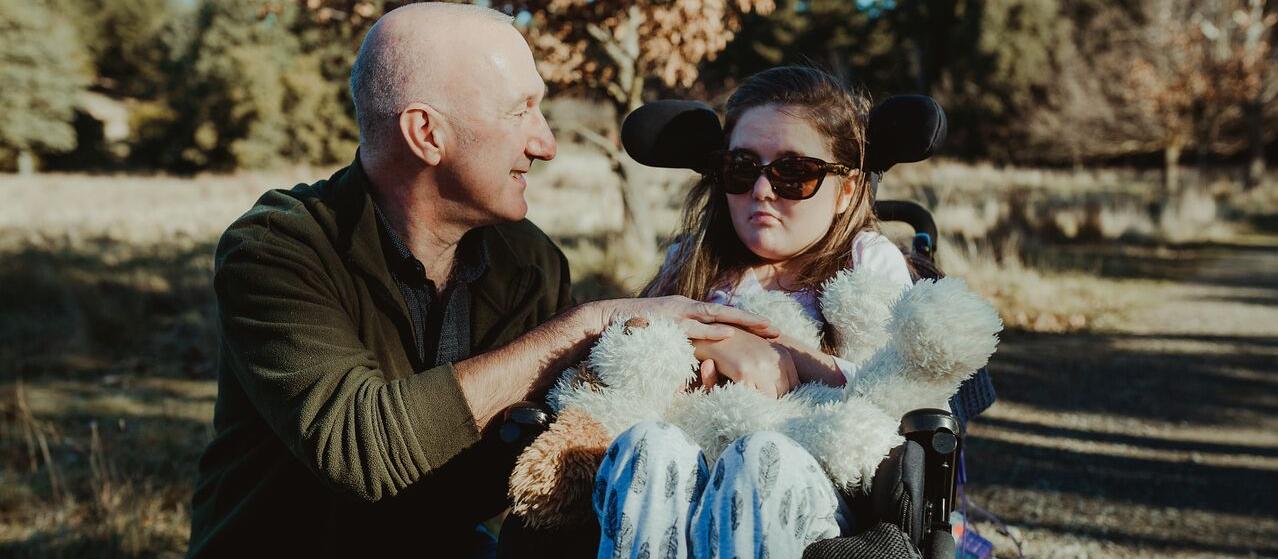 Buzz Burrell with daughter Poppy
Blenheim GP Buzz Boothman-Burrell is an ebullient, effervescent enthusiast who deals with people's health on a daily basis, but he faces one of his toughest health challenges within his own family. Liane Topham-Kindley visits Buzz at home in the Wairau Valley to hear Poppy's story
 
To Buzz Boothman-Burrell and his wife, Lauren, their daughter Poppy is one in a million. However, until she was 10 years old they didn't realise she is one of a very rare breed.
Poppy (21) is one of Buzz's "three flowers", the other two being Lily (26), a fifth-year medical student, and Daisy (24), a second-year nursing student.
Buzz and Lauren knew something was not quite right with their third-born in the first couple of years of her life.
She was very small for her age, and hated eating. When she was two years old, they took her to a paediatrician, to be told she would be admitted to Nelson Hospital for observation. On discharge, she was labelled with "constitutional delay". Buzz and Poppy
"Here we were, two medical parents [Lauren is a registered nurse], and we are being asked whether we are feeding her and 
being told to grate some cheese on her food," Buzz says.
Lauren explains they were angry. "As if we hadn't tried that, it's like – really?"
Time for a change
Buzz had been a popular GP in Reefton for several years; he and practice partner, the late Julian James-Ashburner, were voted runners-up to New Zealander of the Year in 1998.
In 2002, it was time for a change. Buzz and the girls farewelled the West Coast, and headed to Paraburdoo in remote and rural outback Western Australia.
All three daughters blossomed in Paraburdoo, but Poppy didn't grow. Her parents kept trying to work out what was happening to their little girl. They saw at least three paediatricians – one of whom carried out chromosomal studies to find everything was normal – and Poppy had an IQ test. Lauren, Buzz and Poppy
There were five parameters to the IQ test. "She was like a genius in four," Buzz enthuses, though Lauren tempers this. "No, Buzz, not a genius." Nevertheless, she performed admirably in most areas, but it was as if there was a hole in her head where she couldn't do maths.
"We were really stuck," Buzz says. "We knew something was wrong, but we didn't know what it was.
"We had this bright, gorgeous wee thing, who couldn't do maths."
Poppy was a loving child, who doted on her sisters and her numerous pets. She would sit in the guinea pig cage for an hour or two at a time. Cats were like clothing, her lapdog Jellybean was like her child, Lauren says. Daisy (left) and Lily (right) with Poppy
"She was always proud that she was my PA and always went to answer the phone, before anybody else could. She was very cuddly, very original in thought, pleasantly quirky. She'd do things her own way."
In 2005, the Boothman-Burrells returned to New Zealand for Lily and Daisy's secondary schooling and settled in Blenheim. The older girls would brush Poppy's hair for school.
Lily recalls noticing, as she brushed, that Poppy's eyelid was drooping.
"I remember saying to her, 'Poppy, stop it, stop making that face,'" she says. Poppy, by then aged eight, replied that she couldn't do anything about it. Her parents also noticed the droopy eyelids, and a change in her gait.
By the time Buzz and Lauren found themselves before a paediatrician at Wairau Hospital a couple of years later, they were at their wits' end. Lauren told the professor: "Please, do you know we have been doing this for years, what's going on with our daughter?" 
He sent them to a Nelson ophthalmologist, who made the diagnosis the moment he saw her. Poppy has a progressive neuro-degenerative disorder: Kearns–Sayre syndrome. It means she is missing a large portion of mitochondrial DNA.
Mitochondria are structures that use oxygen to convert the energy from food into a form cells can use. Buzz describes them as "batteries" or "powerhouses" of cells. Tests confirmed Poppy has a particularly large deletion.
Kearns–Sayre syndrome affects many parts of the body, especially the eyes. The features of the syndrome usually appear before age 20, and the condition is diagnosed by a few characteristic signs and symptoms. All were obvious to the ophthalmologist.
Buzz and Lauren were barely able to take in all the new information, but were told Poppy's future would bring deafness, blindness, diabetes, dementia and progressive muscle weakness over a number of years.
The condition features progressive external ophthalmoplegia, a weakness or paralysis of the eye muscles that impairs eye movement and causes drooping eyelids (ptosis).
Affected individuals also have the eye condition pigmentary retinopathy, which results from breakdown of the light-sensing tissue at the back of the eye and gives a speckled and streaked appearance. Short stature is also a characteristic.
Kearns–Sayre syndrome is rare. The US National Institutes of Health estimates it affects 1 to 3 per 100,000 individuals.
 
Devastated
Buzz and Lauren were barely able to take in all the new information, but were told Poppy's future would bring deafness, blindness, diabetes, dementia and progressive muscle weakness over a number of years.
Her parents were devastated. Lauren didn't believe it. "It was like, 'oh my God', because we didn't actually, really, believe that it might have been something bad."
She recalls vividly Poppy's thoughts. "She said, 'does this mean I'm going to die? Because I don't want to die.'"
They immediately began thinking what they could do to "beat" the disorder.
"We'll sort it, tell us what to do and we'll sort it out," Lauren remembers saying to the ophthalmologist. "But the diagnosis was horrendous, because there's nothing you can do.
"It's really rare, it's such an absolute bugger. I was thinking, what trials can we put her in, how can we fix her?"
Buzz didn't accept the diagnosis.
"I thought, in this day and age, there must be something we can do. It doesn't seem right to say there's nothing we can do."
He read everything he could find about the syndrome. Every single remedy that had a thread of evidence to it, they tried.
"It had to be evidence-based, but our vulnerability for quackery was ridiculous, as you can imagine," Buzz says.
Evidence suggested new muscle might have non-diseased mitochondria in it, so the Boothman-Burrells bought a trampoline. Poppy and her sisters jumped for hours in a bid for her to grow new muscle. It may have bought her extra time.
But, just as the professionals predicted, the months and years brought deterioration in Poppy's health. They were unable to stop her deafness and blindness.
"She went from being able to run and – albeit fall over – with the dog, to walking 200m to the bus stop, which was as far as she could go," Buzz says.
She continued to go to school and had a guide dog for several years. After a year of mainstreaming at Marlborough Girls' College, she was moved into the school's disability support centre, as her encroaching deafness and blindness made schoolwork difficult.
Twenty-four/seven care
It's a crisp, sunny winter's day in the Wairau Valley when I meet Buzz, Lauren and Poppy, who are housesitting for friends while their home further up the valley is renovated.
These days, Poppy is blind, deaf and unable to speak or move, paralysed from the neck down. As her condition progressively deteriorated, Lauren had to give up her job as an emergency department nurse at Wairau Hospital.
We talk for hours, Lauren sitting alongside Poppy in her wheelchair, holding her hand, stroking her face, suctioning her mouth from time to time, as she is unable to swallow.
When Buzz takes a turn, he kisses her forehead then moves to grab the suction apparatus and Poppy's face seems to brighten at her father's touch.
It's a 24/7 job caring for Poppy, from the early-morning routine of changing her clothing and stretching her limbs (as she curls up into a stiff ball overnight), to managing her multiple medications and ensuring she is comfortable.
Throughout the night, she is checked and turned every four hours, the couple always alert to any sound that might mean she is choking.
It's not the life either had envisioned for their third-born, or themselves, but they do not want people to feel sad for them.
"She's not stopped us doing anything, we are just doing it differently," Buzz says.
Lauren is adamant they are doing nothing out of the ordinary.
'You either cope or you don't'
"It's not amazing," she firmly states. "It might look amazing, but it's not amazing. We adore her because she is our daughter. You either cope, or you don't.
"We had dreams for her, of course we did, the dreams everyone has for their children – and she had dreams for herself," Lauren explains.
But they have taken on a new view of Poppy's life, especially after they almost lost her in October 2014, when she had a metabolic stroke involving her brain stem.
Over a period of about a month, Poppy went from not speaking and thinking as clearly as she could to speaking fewer than five words. It was terrifying.
Buzz and Lauren were aware this could happen, but did not realise it could hit so quickly.
Months prior to this, Poppy was barely eating and weighed a mere 23kg. The family begged the DHB for support; a gastrostomy was performed and a tube inserted so they could feed her.
Daisy was so concerned to see her sister's decline, she took time out from her nursing studies in Wellington to return home to help with the care.
They awoke one morning to find Poppy very unwell; she had vomited and aspirated in her bed. She became unconscious, and her sugar levels went off the scale. Diabetes.
Overnight, she went into life-threatening diabetic ketoacidosis and was flown to Starship Children's Hospital, in Auckland, where she only got worse. The Starship team gathered the family together on three occasions to break it to them that Poppy was unlikely to survive. But survive she did.
Lily, who this year is studying in Queenstown as part of the University of Otago's Rural Medical Immersion Programme, recalls they celebrated every small step in Poppy's recovery.
Twentieth birthday celebrated
Against the odds, Poppy returned home for the summer and the following year, in 2015, Lily took a year out of her medical studies to help care for her sister and work as her teacher aide. She learned a lot about life.
"I loved it, absolutely loved it," she says. "It was actually one of the best things I've ever done in my life."
That year, they celebrated Poppy's 20th birthday with a party, complete with party hats, streamers, and party games for her entire learning support crew at Marlborough Girls' College. Buzz says he spent most of the time tearful.
"It was just so powerful….It was just beautiful how the other kids were, that they see Poppy as their friend, they didn't see her as disabled, as we do. That was beautiful."
It was then Lauren says she began to dream different dreams for Poppy. "We went from being 'we don't believe, we want to fix it, this is not right', to then she's part of this cohort, and they are just treating her completely normally," Lauren says.
"That's when I started thinking, it's not all about what we think is right for Poppy…and that is so comforting.
"I have different dreams for you now," she tells her daughter.
"My dreams for her are that she still touches people, she still makes people kinder and more accepting, and…she's always such a good little thing."
Lily says some people questioned why Poppy went to school. As her teacher aide, however, Lily was overwhelmed by the way her sister brought positivity to the class.
"No kidding, she brought so much love into the classroom and allowed the other girls to be able to show affection. Their special needs were not as great as Poppy's, and they could help her."
Daisy says her parents have always encouraged them to look at what Poppy can do, rather than what she cannot. "Whatever bad thing is happening, there is always some good."
Their Christian faith has helped sustain them through the ups and downs of life with Poppy.
Poppy's plight a game changer for GP
Buzz is proud of how the family has come together, and learned a lot about themselves and one another. "We're more of a team than ever, really, because we have to be," he says.
They still holiday at their bach in the Marlborough Sounds, and keep up a tradition of rowing a boat around the bays to a place they call "Magic Beach". Poppy gets about in a three-wheeler buggy, and they manage to get her into the boat.
"We've had a lot of fun," Buzz says. Poppy hasn't stopped them doing anything, and there's no resentment, he says.
Her long-term prognosis is not good, but Poppy has already defied the odds and outlived the experts' estimate of 18 years' life expectancy at most.
Her family are making the most of every precious day. "It sounds so corny but, seriously, we just make the most of whatever we have," Lauren says.
"I'm going to thrash every last bit of life out of her," she smiles. "Really, what else is there? I just want to love her to the max."
When Buzz Boothman-Burrell hears patients in his Renwick general practice whinge about how terrible it is they have gout and how hard it is to live with the disability, he has to take a deep breath.
Similarly, he squirms when parents of children with a disability say: "You wouldn't know what it's like."
Says Buzz: "I don't want to diminish or demean it but, quietly, inside, I think 'you and I come from the same club.'"
A respiratory research fellow at the University of Otago before he moved into rural general practice, Buzz established his own practice in Renwick three years ago and works part time at the Nelson Pain Clinic. He is also regional coordinator for the University of Otago's Rural Medical Immersion Programme.
Poppy's plight has changed him as a doctor, he believes, most of all heightening his awareness of disability.
He remembers how distressed Poppy felt when she was aware she had a rare condition. "For kids with conditions, I'm now a completely different person," he says.
"How I feel is so funda­mentally different. For a teenager who has lost a leg to cancer and another, who is blind, I listen more and talk less."
That's almost inconceiv­able for many who know Buzz. He's an irrepressible, outgoing, personable man, well known throughout general practice as the master of ceremonies at conferences, selected for his ability to talk nineteen to the dozen and with out­standing wit. Talking less does not come easily.
But he would like to think that the way he practises with all his pa­tients embraces kindness, respect and understand­ing, much of it learned from Poppy.